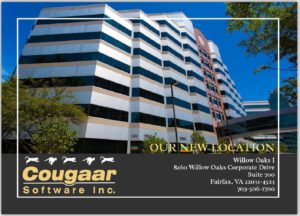 Cougaar Software, Inc. (CSI), an innovative technology company in the Washington D.C. area specializing in AI and distributed intelligent agent solutions, is pleased to announce that they have moved to a new location. CSI's headquarters is now located at:
Cougaar Software, Inc.
Willow Oaks I
8260 Willow Oaks Corporate Drive, Suite 700
Fairfax, VA 22031-4523
CSI is excited to continue pursuing its vision of AI in this exciting new space.
For more information on how customers could benefit from CSI's custom solutions, please visit https://www.cougaarsoftware.com/custom-solutions/.