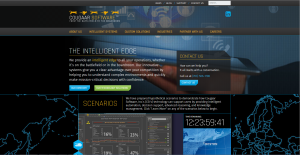 Cougaar Software, Inc. (CSI), an innovative technology company in the Washington D.C. area specializing in cognitive computing and distributed intelligent agent solutions, announces the launch of their completely redesigned company website.
CSI leverages advanced cognitive computing concepts to design next generation planning, decision support, and optimization systems for its military and commercial customers. These solutions are built on CSI's state-of-the-art ActiveEdge® platform, a distributed intelligent agent development framework based on the DARPA Cognitive Agent Architecture (Cougaar) technology. CSI's cognitive computing technology enables users to understand complex situations and reason deeply over massive amounts of data to make better decisions, quicker, and with higher confidence.
To support its mission and provide a more modern look and feel, CSI redesigned its website with the following goals in mind:
Providing a window into CSI's powerful technology and innovative solutions
Serving as a valuable resource for leaders interested in how and where human machine teaming, enabled by cognitive computing, can change our world
Introducing scenarios that would help leaders better understand the benefits of adding cognitive computing technology to different domains of interest
We invite you to check out CSI's new website at http://www.cougaarsoftware.com/.